Re: Inventory of Cargo Received New Year's Eve, 21st Year AOP
Burard Curiousities
For whatever takes your fancy 
Inventory of Cargo Received New Year's Eve, 21st Year AOP
| | | |
| --- | --- | --- |
| Item | Count | Condition Received |
| Cart (high quality) | 0.9 | Mostly reassembled, record 10% damages for fragments still inside serpentmonster  |
| Large jar | 1 | Good, seal undamaged |
| Demonlord (name of Godfrey) | 1 | In jar, appears and be unscathed and in good* condition |
| Assistant to the Demonlord (name of Melvin) | 0.95 | Mostly reassembled and functional; missing one (1) foot |
| Suitcase | 1 | A bit grimy, but intact |
| Miniature gelatinous cube variant (bouillon flavour) | 0.75 | Damaged** in transit; the cube has consumed a medium quantity of dirt, grime, and other assorted cave debris |
*a demonlord, so only for a given value of "good"
**shipping crew mostly not at fault
Incidental Costs Incurred
To be allocated to shipping expense on cargo
| | |
| --- | --- |
| Description | Cost |
| Drycleaning for Shipping Crew | 3 sp |
|    Tip | 1 sp |
|    Centipede goo, serpentmonster digestive juices, bouillon cube remnants not in their typical oeuvre, but they did a great job   | |
| Armor Detailing for Shipping Crew | 4 sp |
|   No tip for detailers: they complained a lot, left ooze in my greaves, and what were they expecting? They clean armour! That people fight things in! I mean!  | |
| Refreshments for Shipping Crew | 2 sp |
|    On account at the Jazz Dungeon  | |

Appendix to the ledger (Private records of W.S.)
Things I was not expecting when asked to inventory a cargo of party favours:
1. To be accompanied by an automaton of uncanny initiative and skill - almost personality? This will require additional observation. 
2. That the automaton would bring friends of its own including a tiny druid willing to crawl into the mouth of a dead serpent to find a disembodied head and a sorcerer who ate a number of unusual and ill-advised things in the space of a few hours.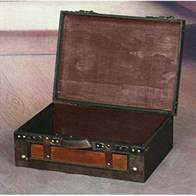 3. That our a) elven b) ranger c) guide, recommended by a very well-respected family, would be so a) young and b) easily distracted
4. That Grigori would bring his bongos.  
5. That we would be attacked by a) a small herd of large centipedes and b) a very large burrowing serpent thing in the course of doing inventory 
6. Having to choose between healing the very large kenku monk that Grigoriy brought along and attacking the serpent with glitter (?) AND CHOOSING THE GLITTER
I am still not entirely convinced that the suitcase of bouillon was the only cargo intended for the Palooza, but I feel we have done our due diligence. I'll take the entire team to the Jazz Dungeon later and buy them a few rounds. We deserve it. 

---