A series of clippings from The Volos Cutlass, sent from Antonella Flax to her Monkle Joe on his hermit island.
Excerpts from The Volos Cutlass
Various, from the second week of Arman. Agatha Smee, ed.
---
DUNCAN'S DRUBBING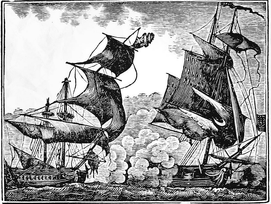 The beloved Rilador tradition of counting coup has seen another crew elevated to the ranks of glory in a recent bout between the Unsinkable II and Duncan's Dinghy! Challenged by Captain Daniel Duncan, Captain Fletcher Gilt and his new crew rose to the occasion. In spite of a stanky opening sally and misfire from the Unsinkable II, several of that ship's crew were able to board the Dinghy, dominate in combat (and drama - including some highly swashbuckling moves from lookout Antonella Flax and Captain Fletcher Gilt), and capture the opponent's flag. It is unconfirmed what prize Gilt claimed for his victory, but there was a great deal of talk about removing the ornate door to Duncan's quarters - future challengers beware, for the price of piracy may be your privacy! The Unsinkable II's triumph moves that bunch of bizarre buccaneers up in the rankings to 9th place and bumps the Dinghy down to 17th. The Arcangel remains at the top of the lists.
---
AMATEUR GEOLOGY CORNER
Friends, Volosi, geologists, lend me your ears! It has come to our attention at the Community Cottage Society for Amateur Geology and Stone Enthusiasts that some clarification is required re: rocks and whether to chonch.
First, a summary on whether one may safely lick the science:
Medicine: only for the purpose of tongue and cheek swabs
Alchemy: If in doubt: NO.
Archaeology: Perhaps, esp. to determine whether is bone.
Psychology: Best not.
Zoology: Might lick back.
Geology: Sometimes necessary, sometimes dangerous.
There are many reasons to chonch a rock - perhaps it looks tasty or has a distinctive texture that may only be experienced fully with one's tongue, or the details of the rock are more easily observed when moistened. However! Many rocks are dangerous to chonch, or even to briefly taste by means of application of the tongue! In the interest of public safety, we provide this simple guide.
Rocks that can be safely licked, and in fact are beneficial to lick in the pursuit of Science:
Evaporites: these look like quartz and calcite but are CHOCKABLOCK with FLAVOUR, e.g. Borates, Epsomite, and your friend and mine: Halite (salt)
Fossils: is it a bone or something else? Bones will stick (as will ex-bones) because mouthfeel remains with the physical form (ghosts have no mouthfeel (Xanedes et. al., 719)).
Mudstone and Siltstone: an excellent pair of rocks to put entire into one's mouth as they look very similar (but siltstone will have a gritty texture and mudstone is pleasantly smooth)
Rocks you can lick if you want*, but there is no scientific reason to do so:
Pumice 
Granite
Basalt
Dwarf bread
Unenchanted gems
Limestone
*do not lick if you have performed previous science involving alchemy or artifice
DANGER! KEEP AWAY FROM ORIFICES
Cinnabar: pretty, will kill you
Rocks with lead in: will eventually kill you if you make a habit of chonching
Enchanted crystals: inadvisable at best, deadly at worst
Arsenic: you know better than this. YOU KNOW BETTER THAN THIS.
Henges: high likelihood of a) being cursed, b) accidental but inevitable warlockery, c) connection to deeply unscientific eldritch powers, d) gastrointestinal distress
 Additional information will be available at our bi-weekly Amateur Geology and Stone Enthusiasts club meeting in Room 513X at the Community Cottage. Next week's meeting will include a tasting menu!
CLASSIFIEDS
PIRATE LESSONS WITH LÉONIS: Marauding not meeting muster? Swordplay more like sadplay? Depressing when you'd rather be dashing? Try piracy and fencing lessons with the dread Léonis of Volos - 9/10 locals know his name. 
HIDDEN IN THE SMUT: An anonymous source reports that there are secret messages to rangers encoded in the regular late-night broadcasts; local cyptographers are encouraged to tune in and deliver any potential intel ℅ T. Oromë at The Cutlass. Rewards will be issued for verified findings. Please do not encode your messages - if we were good at codebreaking we'd be doing this ourselves.
COMPLIMENTARY COFFEE at The Salty Hog with purchase of ½ lb of salami or other meat cured in our salty bog. Try our famous Salty Fog - "the only flavour in Volos".