Mauritius Zyphrym-Denyr'tha, Scion of the Panther's Claw, Earl of Wending (Maurt)
Description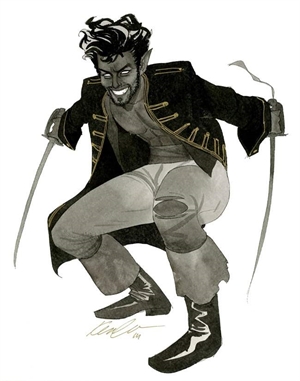 From twenty paces, Maurt is the picture of nobility. He is tall, well-groomed, dresses in layers of fine silks and linens, and moves with a confident grace. His cascade of midnight black hair frames the dark blue skin of his face and pale violet eyes to form the striking portrait of a handsome and dangerous man.
Face to face, the illusion fades. His clothes are threadbare, and his hair looks like he let a five-year-old cut it. He is shy and unimposing. His speech is awkward and stilted. He laughs at inappropriate times and interrupts frequently. 
He teaches the local children the Panther's Claw fighting style at Battle Bath and Beyond, but the lessons focus more on basic literacy, general fitness, and games. The school is a laughing stock in the martial world, but Maurt considers his work as an important public service to his town. 
Maurt, himself, is a terrible fencer. He is frequently challenged by travelling duelists looking to raise the prestige of their style by defeating other masters. He has lost almost every duel he's been challenged to. His only notable skill in that regard appears to be surviving those duels with relatively minor injuries. 
He has very minor magical abilities inherited from his mother. Mostly the ability to mend things. There are rumors that the magic might run deeper, but Maurt rarely shows any interest in displaying or developing that talent, if it exists. 
---
Family
Maurt is the second son of two famous adventurers: Shayde Zyphrym, and Tamarind Denyr'tha. They lead the Obsidian Panthers adventuring company and their adventures are the stuff of legends. He also has two siblings: an older sister, Hypatia, and a younger brother Axolotl.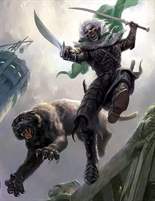 Shayde Zephrym is an exile, a grim and solitary hunter, and master of the Panther's Claw dual scimitar style. He was a lord of the Grue but was exiled when he refused to kill and eat the family of a defeated enemy. Now he prowls the shadows of Temir, meeting out justice for the suffering innocent. He works alone, accompanied only by his faithful panther companion, and between four and seven comrades including his wife, Tamarind. 
---
Tamarind Denyr'tha is a Lirasi sorceress. Born into poverty and servitude in the Scything Crag, she fled when her manifesting magical powers made her a threat to the educated elite of the Magocracy and a tempting treat to the Illithid. She is a free-spirited and passionate lover of peoples and nature. She enjoys hiking with friends, long baths, and making things explode. 
---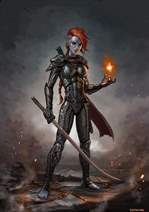 Hypatia (Tia) is the eldest of the children. She inherited the skill and power of both her parents, incorporating her magical power and martial skill seamlessly. She followed in their footsteps, becoming an adventurer and hero in her own right. She is widely adored for being strong, clever, beautiful, brave and compassionate. 
---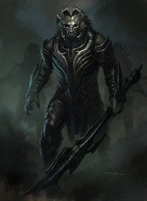 Axolotl (Axe) is the youngest child. He inherited none of his mother's magic and little of his father's talent. Petulant, violent, and resentful of the shadow of his parents and older sister.  Axolotle left town and turned to banditry as a way to distinguish himself. He took the moniker "Little Axe" and through guile and brutality, quickly rose to become something of a bandit lord. 
167

views

0

previews

6

versions
Avg. Rating:

Updated By:

Ryan Consell

October 13, 2017

Posted By:

Ryan Consell

October 7, 2017

Versions:

v.6
---