Offline
---
Offline
Upon returning from the witch's cottage with Priscilla, Mallow walks her  to meet her sister, then hurries to the shop. She sends Jerome out on an errand; "I need three trout and a river kraken. Go find them and don't ask why." She rifles through a bookshelf that is fairly hidden away, and grabs a notebook tucked at the back, writes furiously for a minute, and then tucks the notebook back in it's place. 
Scrawled hastily and messily in the corner of one of the middle pages is:
I've ne'er been so…
Read more...
---
Offline
Mallow's notes from the descent beneath the ruins.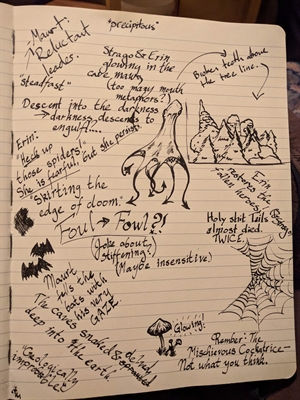 ---
---