Offline
A series of clippings from The Volos Cutlass, sent from Antonella Flax to her Monkle Joe on his hermit island.
Excerpts from The Volos Cutlass
Various, from the second week of Arman. Agatha Smee, ed.
---
DUNCAN'S DRUBBING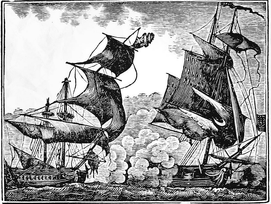 The beloved Rilador tradition of counting coup has seen another crew elevated to the ranks of glory in a recent bout between the Unsinkable II and Duncan's Dinghy! Challenged by Captain Daniel Duncan, Captain Fletcher Gilt and his new crew rose to the occasion. In spite of a stanky opening sally and misfire from the Unsinkable II, several of that ship's crew were able to board the Din…
Read more...
---
About this channel
330

views

5

articles

1

follower
Recent Contributors
Offline

Esther W

---